Branch Committee Nominations 2021/22
---
Notice is hereby given of the 2021 Annual Meeting of each State Branch of Australian Institute of Traffic Planning and Management Ltd, ACN 062 495 452.
Below is some important information for members regarding eligibility and voting rights.
NOMINATE HERE - YOU WILL BE REQUIRED TO LOG IN FIRST
---
---
Why Volunteer at AITPM?
---
I volunteer with AITPM because I get to collaborate and work with a bunch of passionate industry professionals, who are also just lovely people in general. My experience on the committee has expanded my knowledge and connections in the industry. Also, I find it rewarding to help deliver events for my peers.
Alice Shi, Senior Traffic Engineer, Cardno
As a recently arrived expat, I wanted to feel more connected to the industry. Volunteering with AITPM has allowed me not merely to meet others in our industry, but to strengthen my relationship with them by actively working together. I also believe that entities such as the AITPM has a role to play in disseminating information (and educating people), as we do via technical sessions. It therefore gives me a sense that I am contributing to the general betterment of the industry, which in turns improves better outcomes for clients, and ultimately results in a better world for the current and future generations.
Berino Lorio, SMEC
Professionally, I have developed key industry contacts and being a committee member has helped grow my confidence and leadership skills. On a personal level being a committee member help me stay connected to the working world whilst I was on maternity leave.
Manesha Ravji, Associate: Transport, Ratio Consultants
---
---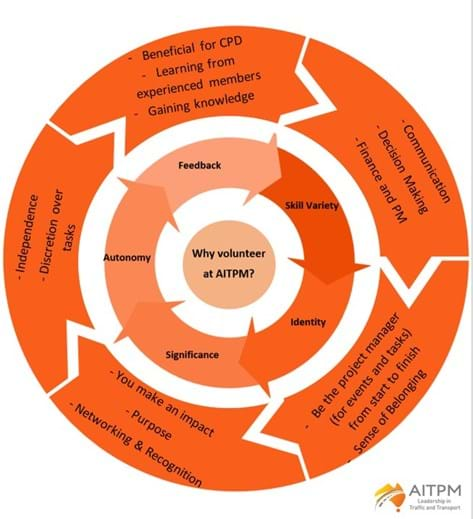 ---
Participating on the AITPM committee has been valuable to gain exposure within the industry and grow my network (which has been crucial for me being still relatively new to transport). It has also been fantastic for my professional development, in particular through learning about all the great things being achieved within the industry (failures included!). Continued learning is important and is something I'm passionate about - AITPM offers this to its membership.
Anita McCracken, Manager, Road Safety Policy at RAC
Eligibility Requirements:
In accordance with the State Branch Charters, to be considered eligible for a Branch position of AITPM Ltd, the following eligibility requirements must be meet as follows:
Only financial members of the grade of Fellow, Member or Associate are eligible for nomination to the Branch Committee.
As soon as is possible following the election of the committee at the State Branch Annual Meeting (but before the National Annual General Meeting), the committee shall meet to appoint the office bearers. Eligible committee members shall nominate for one position at a time in the order of president, vice president, secretary and treasurer. If there is only one nomination for a position, then the nominee is declared elected. If there is more than one nomination, then the committee shall vote by secret ballot. The term of the office bearers is one year.
The eligibility criteria for the office bearers are:
President: must be a full Member as defined in the Constitution, have previously served on a Branch Committee for at least one full term and have previously been elected as an office bearer on a Branch Committee.
Vice-President: must be a full Member, have previously served on a Branch Committee for at least one full term.
Secretary: must be a full Member, have previously served on a Branch Committee for at least one full term.
Treasurer: must be a full Member, have previously served on a Branch Committee for at least one full term.
---
State Branch Nomination Closing and Annual Meeting Dates
Below are the details for the meetings for each State, where known. In States where restrictions are still in place, arrangements will be made to hold the meeting via Zoom.
| Branch | Number of Vacancies | Nomination Closing Date | Annual meeting date |
| --- | --- | --- | --- |
| NSW | 7 | 2 June 2021 | 23 June 2021 |
| QLD | 7 | 9 June 2021 | 30 June 2021 |
| VIC | 8 | 23 June 2021 | 14 July 2021 |
| SA | 9 | 16 June 2021 | 7 July 2021 |
| WA | 5 | 23 June 2021 | 14 July 2021 |
| | | | |
Transport Modelling Network (TMN) Committee Nominations:
The Transport Modelling Network (TMN) is a national committee which is composed of elected representatives from every state and territory in Australia.
More information and a nomination form for the TMN committee can be found here:
---